ASCOT SOLAR PANEL INSTALLERS
Ascot Solar Panel System Installers
Ascot Solar Panel System Installers. Did you know that only a fifth of the population of Ascot has taken up the opportunity to install solar in the last 10 years? In other words, out of the 2872 dwellings in Ascot, only 609 (18.8%) have installed a solar panel system. This comes in well below the state average of 34.8% of solar panels that have been installed in Queensland. Get on board the solar panel system revolution and help increase the number of solar panel systems that have been installed in Ascot. You will be able to save a whole lot of money and save the planet in the process.    Give one of our expert solar panels system staff members a call today or click on the link and  GET A FREE SOLAR QUOTE TODAY. 
The land was originally occupied by the Aboriginal Turrbal Clan and the name Ascot comes from the English town Ascot and as a reference to the famous racecourse. Known for its beautiful old homes, the picturesque Race-course road and, for both Eagle Farm and Doomben Racecourse.  This innercity suburb now has a population of approximately 5700 residents.  For advice on a quality solar panel system talk to one of our friendly staff members or drop into our showroom up the road at Links Avenue North, Eagle Farm.
If you'd like to join the solar power campaign and you appreciate a high quality solar panel system install, look no further than MC Electrical. Contact us today for a free solar quote to start saving on your energy bills.
To the right, an install we completed on a beautiful colonial house in Ascot, 2018. They chose to go for a solar panel installation with MC Electrical, because like us, they value the highest quality solar gear installed by a team that values perfection in every aspect of the job.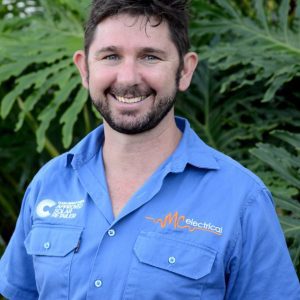 Hi Ascot! I'm Mark Cavanagh, owner and manager of MC Electrical. I'm an Electrician, an accredited solar designer and installer and a solar power blogger.
I'm passionate about the solar industry. For the past 11 years I've been testing solar panels and solar inverters and finding more robust methods of installing solar. Part of this work has opened opportunities for me and some of my staff to travel to Israel, Germany, Austria, China, Korea, Mexico and the USA. Here we visit Solar Factories and meet with solar industry leaders, to check out products we recommend … and products we no longer recommend. I share my findings in "Mark's Blog" for consumers and for the industry.
TALK WITH US ABOUT NO DEPOSIT SOLAR FINANCE TODAY
Clean energy at home has never been more affordable
Features & Benefits:
No deposit required

No real estate security required

You own the system whilst making fixed monthly repayments

Spread the investment plan
ASCOT SOLAR PANEL SYSTEM INSTALLERS QUEENSLAND 4101
If you are looking for the best Solar Panel System Package in Ascot, contact MC Electrical. Our in house and trained solar team ensure we can guarantee quality solar installations for every Ascot home and business. Talk with our Solar Panel experts today regarding the best Solar Panel System Price for your home or business. No-hard sell – just expert solar advice !
GETTING SOLAR POWER IN ASCOT MADE SIMPLE
CONSULTATION
Our solar experts will explain all your solar power options and will customize a green energy solution that's right for you. We don't use sub-contractors and offer customers a 10 Year workmanship warranty!
DESIGN – INSTALL
We will design a custom solar power solution just for you! Our team will do all the paperwork for solar rebates, incentives and complete grid connection on your behalf. We are local & trusted with a reputation for quality.