Fronius WiFi Reconnect
How to Reconnect your Fronius Inverter to WiFi
Getting Your Fronius Inverter Reconnected to WiFi Has Never Been Easier
Reasons Your Fronius Inverter Needs To Be Reconnected to WiFi?
* Fronius is the best solar inverter in the world! One of the reasons for this is the R&D that goes into them, in particular the algorithms that ensure your solar panels are producing the most that they can. This is why Fronius continually update their software, which can cause the inverter to lose its connection to the WiFi network on occasion. This performance development is something you simply don't get with cheaper inverters and is one of the many reasons you pay more for a Fronius inverter.
Fancy the written version? Click Here
Accidentally come across this page while doing your pre-solar research? You're in luck.

Since you've been researching, you would already know that Fronius is the best solar string inverter in the world. But, did you know that MC Electrical is one of only 10 Fronius Solution Partners PLUS? As well as being the "Solar Quotes" all time number one solar installer in Australia?

All this means, there's no one better to go solar with, than MC Electrical.
TOP OF THE RANGE Q-CELLS SOLAR PANELS WITH THE WORLDS BEST STRING INVERTER
HIGHEST POWER CLASS SUNPOWER SOLAR PANELS MATCHED TO THE WORLDS BEST STRING INVERTER
Enphase vs Fronius – Is there a new winning shade solution?
Enphase has always been known as the best solution for shaded roofs. The kink in the hose theory has always seemed to back this up, but was it all wrong? Is a system really dragged down by the weakest panel?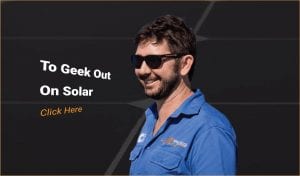 If you want to do your homework before purchasing a solar panel system, Mark's Blog is one of the most useful resources you'll find. Mark reviews solar panels, solar batteries, solar inverters, solar optimisers and solar installation methods. See for yourself why Mark and the team at MC Electrical are considered industry thought leaders.
CONSULTATION
Our solar experts will explain all your solar power options and will customize a green energy solution that's right for you. We don't use sub-contractors and offer customers a 10 Year workmanship warranty!
DESIGN – INSTALL
We will design a custom solar power solution just for you! Our team will do all the paperwork for solar rebates, incentives and complete grid connection on your behalf. We are local & trusted with a reputation for quality.