The Sungrow Premium range of Solar inverters has hit the Australian Solar market – and it's a genuine game-changer. The words "Quality Chinese" used to be an oxymoron. However, over the last seven years, Sungrow has grown a reputation to be just that. Below is my YouTube Sungrow review, followed by a more detailed blog review of the new Sungrow inverter. It's partly a technical comparison with what I consider to be the best residential string inverter: Fronius.
Should you buy the Chinese owned Sungrow inverter in the current political climate? What about cybersecurity concerns? This blog ignores the political questions and instead focusses on the technical aspects of the new Sungrow inverter.
We'll look at the DC isolator, the monitoring, the new Solar Analytics collaboration, the so-called "natural cooling", the Grandma screen, and the new Sungrow Premium inverter warranty. We'll also discuss a few other interesting if not dubious "features" of Sungrow's new inverter. And stay around to the end of the blog where I share an anecdote about Sungrow's reliability.
The Sungrow Premium inbuilt DC Isolator
The new Sungrow Premium inverter isn't really new. According to the Clean Energy Council's approved inverter list, there is no such thing as a new Sungrow Premium Inverter. It's just the old inverter with the same badge and a couple of new bells and whistles. But while the tweaks are not considered significant enough to warrant a new CEC listing, they are significant enough to call it a game-changer.
The inbuilt DC isolator is probably the most significant improvement to the Sungrow. The inbuilt DC isolator makes for a much neater install and removes a weak point of an external DC isolator.
But in practice, it's much more than just a nicety. Since 2018, we haven't been able to install DC Isolators on a wall that would get partial sun. The amendment to the Solar installation standards states:
Isolators shall not have direct exposure to sun and rain" (ASNZS 5033 2014 amendement 2, 2018 clause 4.3.3.3.2).
Because the old Sungrow inverter didn't have an integrated isolator, we needed to install that ugly red switch next to the Sungrow – but out of the sun and rain.  This made the installation options of the old Sungrow inverter ridiculously inflexible.
Now that the new Sungrow has a DC isolator neatly tucked away under the inverter, we can install it anywhere. And, if we still have to install the Sungrow inverter on a northern wall, we can match it with our in house designed Sungrow inverter shield.
Sungrow's Monitoring platform options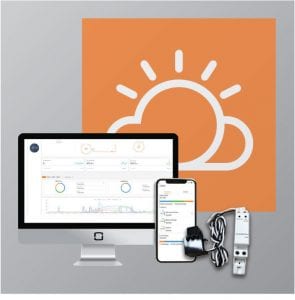 The Sungrow monitoring platform, called iSolarCloud is just ok, but it is getting better.
A year ago, Sungrow released their consumption monitor (also called a Smart Meter, or Sungrow Energy Meter). The consumption monitor allows the inverter also to monitor household consumption rather than just inverter production. However, Sungrow's previous inverter model didn't monitor household electricity when the solar turned off at night.
To solve this issue, the new Sungrow Premium inverter now offers what I call "night-mode". Sungrow's night-mode allows you to see what your home is consuming 24/7, both instantaneous and in a historical graph format. Limited consumption monitoring was the main downfall of Sungrow's monitoring platform. Now that Sungrow offers night-mode, any other quibbles I have with Sungrow's monitoring platform are only nit-picking.
Sungrow chose to use a single-phase CT meter (clamp-on). This is in contrast to follow Fronius's choice of a whole current smart meter. This makes the Sungrow meter almost $100 cheaper to buy and easier to install. Because we don't need to run the entire household current through Sungrow's little gadget, hopefully, it will prove more reliable than the Fronius Smart Meter. Sungrow's s100 meter is a class 1 meter, so accuracy isn't an issue.
Sungrow's Grandma mode
Keeping every gadget in your house connected to WiFi isn't everybody's idea of a good time. For many people, solar is set-and-forget. Sungrow has chosen to keep a screen on their inverter, which means you can easily walk past and glance at your inverter to see if it's producing. Because screens have historically been a week point on Solar inverters, most inverter manufacturers have removed the screen from their newer models. I'm glad Sungrow has seen the importance and persisted with an in-built inverter screen. As Granma would say:
I don't want that fancy interweb stuff. I just want my grandson to tell me if the thing is working – that's all!
Sungrow and Solar Analytics integration

My mate Nigel Morris called while I was halfway through this blog with some big news:  Sungrow is integrating with Solar Analytics monitoring! Solar Analytics is hands down the leading third-party inverter monitoring platform in Australia. Nothing else comes close. Solar Analytics have asked us to roll out this new offering on a trial basis – before they offer it to the wider market. All going well, it will be available to everyone by the end of 2020. $125 will buy you a five-year Solar Analytics subscription for your Sungrow inverter. That's cheap as chips. This is what you get:

Solar Analytics Performance alerts
Performance alerts are Solar Analytic's core claim to fame. Every monitoring system will tell you what your Solar system produced. Solar Analytics tells you what your Solar system should have produced.  Has a tree been growing over your panels? Have you got a fault with your system? Solar Analytics is designed to hold your solar system to account.
Solar Analytics tirelessly work on a bunch of fancy solar production algorithms. The algorithms use your solar array data, historical data, weather data, and nearby systems performance to monitor your system performance. To be fair, Solar Analytics hasn't always been great at getting the alerts right. Some of our past customers have sent their Solar Analytics alert emails to junk mail because there were too many false alarms. But it seems recently Solar Analytics have been tweaking their secret sauce, and we see fewer false alerts than we were before.
Performance alerts are an almost insurmountable problem. Ask any Enphase or SolarEdge guru, and they'll tell you that inverter performance alerts are too sensitive or not sensitive enough. Solar Analytics is not immune to this problem. However, unlike any inverter manufacturer, creating performance is core to the Solar Analytics business model. They don't do it perfectly, but they do it better than anyone else.
Solar Analytics Savings Analysis
Sungrow's own monitoring platform (iSolarCloud.com) is pretty useless when it comes to calculating your savings. Sungrow has told me that updates are coming, but I can't see the user interface ever being half as good as the Solar Analytics user interface. Solar Savings is what most homeowners are interested in: will my system really pay itself off in 3 or 4 years? And how can I improve my payback period? SolarAnalytics answers those questions with an easy to interpret dashboard.
4G or WiFi
One of the big attractions to Solar Analytic's original offering is that you don't need to rely on a WiFi connection to your home internet. If you buy the Solar Analytics hardware, it comes with an inbuilt 4G data package that reliably connects your inverter to the internet independent of what your home internet or WiFi modem is doing.
But, be warned: that is not what you get with the new Sungrow/Solar Analytics $125 integration. This option just uses the Sungrow WiFi connection to push the Sungrow data to the Solar Analytics website. If your inverter loses WiFi connectivity, then your Solar Analytics monitoring will not work. But it's preferable to keep your Sungrow inverter connected to WiFi anyway. Here's why:
No DC Measurements
Your standard Solar Analytics hardware and subscription may have reliable 4G, but it does not tell you the voltage and current of the Solar Panels. It can't. This information needs to come from the inverter itself. DC measurements may seem like irrelevant information to most end users, but DC voltages and currents are an invaluable fault-finding tool for my service team. And this is my biggest issue with Solar Analytics. We can't rely only on the Solar Analytics 4G connection to tell us what's wrong with your system; we need to keep the inverter online also.
The new Sungrow – Solar Analytics integration relies on Sungrow's less reliable Wifi (or hardwired) internet connection. If you make changes to your modem, you'll need to reconnect your inverter to WiFi by following this Sungrow WiFi reconnect video. But that's not such a bad thing – we want your inverter connected to the internet for DC monitoring.
Solar Analytics tells me that, in the future, their new Sungrow integration will also display the DC Voltages and DC Currents. That's not a huge deal because we have access to the Sungrow portal anyway. But I'm sure Solar Analytics will present the DC measurements with a superior user interface.
Sungrow Inverter Natural Cooling?
Sungrow claims on their spec sheet to have natural cooling. In reality, they have an internal fan to prevent hot spots like most inverters. The inverter is a very compact build and it uses the body of the inverter as a heat sink. Heat kills electronics, especially electrolytic capacitors.
By comparison, the Fronius inverter is spacious and has internal and external fans and a cooling chamber that pumps the heat away from the heat sink. Fronius is cool in more ways than one. The Sungrow by comparison often feels alarmingly hot to touch. That's normal for a Sungrow – but it's not great for electronics. On cooling capacity alone, it's logical to assume that Fronius inverters will outlast Sungrow inverters.
Sungrow Surge Protection?
Nope. The Sungrow spec sheet spruiks surge protection on the front page of the spec sheet like it's a feature. If it had replaceable cartridge surge protectors on it, that would be a pretty cool feature. But all the Spec sheet is referring to is Metal Oxide Varistors (MOVs) that are required in all solar inverters according to international inverter standards IEC62109.
Sungrow's Arc Fault Circuit Interruption
Sungrow was the first inverter on the Australian market to come with built-in AFCI or Arc Fault Circuit Interruption. AFCI is what it sounds like. If the inverter detects an arc fault anywhere in the solar installation, the inverter will turn off, and the arc fault will disappear. I spent several hours testing this feature on the Sungrow inverter by arcing out rooftop isolators until they caught on fire. I can report 2 findings.
AFCI is not likely to nuisance trip.
AFCI is not likely to trip unless you have some serious welding type arcs going on.
The jury is out as to whether Sungrow's AFCI would reduce the risk of rooftop fires. A better way to reduce the risk of rooftop fire is to choose a reliable installation company that uses quality components and does not subcontract out their work to the cheapest bidder. To put a figure on that, don't expect a quality installation if you are paying significantly under $1000 per kW of solar panels installed.
Sungrow's input limitation
A significant difference between the Sungrow and Fronius inverter range is the input current limitations. See the table below. For more technical information, check out this Combined Sungrow Inverter Spec.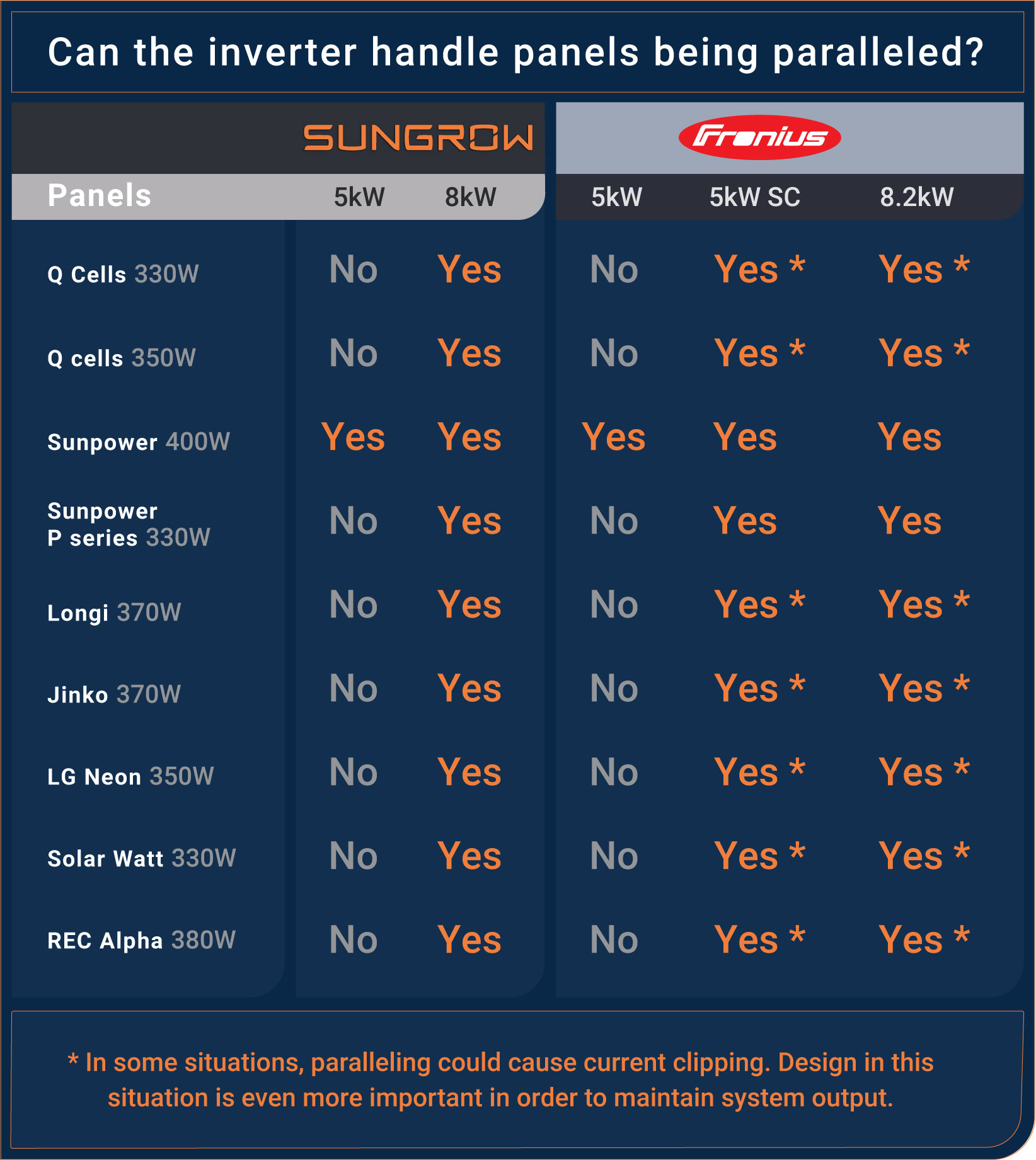 Sungrow inverter warranty
Sungrow has joined the Solar Industry's race to the longest warranty and backed their inverter for 10 years. That's 10 years on parts and labour. It's a big call from Sungrow! We were Sungrow's warranty agent for several years – they are really efficient and easy to work with. I have full confidence that they will honour any warranty issues for the 10-year duration. And they'll do it without the fuss that we see from many other inverter manufacturers.
Here's a funny story, which is a plug for both Solar Analytics and Sungrow. Before Sungrow released their premium inverter, they gave me one to test and destroy. It handled everything I threw at it – or so I thought. Then, a couple of days ago, we integrated Solar Analytics, and I received an "overperformance" alert.
Sungrow's monitoring platform didn't alert me to this apparent fault; it's not designed to. The inverter could have carried on for years, reporting a 200 per cent overperformance. Instead, I received a call from Nigel Morris and an email alert from Solar Analytics telling me the system was overperforming.
Unfortunately, I had not stumbled upon the secret to increasing Solar production by 200 per cent. It was a Sungrow metering hardware issue. Sungrow told me to replace the inverter under warranty.
I asked Shane, my service manager, to arrange a Sungrow warranty. But he didn't know how to. After 20 months as my service manager, he has not seen a single Sungrow inverter fail. That alone drives home Sungrow's reliability. To date, we only installed 85 Sungrow inverters. But to not have a single failure in the last 20 months is pretty impressive.
Conclusion
With the in-built DC isolator, in-built screen, updated monitoring platform, and the option of Solar Analytics, Sungrow is now a true contender. It still has an inbuilt fan, and the cooling system is not all that "natural", but it's quiet. You could mount it in your living room – if you were weird. It can be mounted in the partial sun. It could even be mounted in full sun with one of our shmicko Sungrow inverter shields.
The surge diverter is a red-herring and the arc fault circuit interrupting didn't impress me. It's not built as well as the Fronius Inverter – most notably in the cooling arrangement. But it's going to save you a fist-full of dollars compared to the Fronius inverter, especially if you add in the consumption monitor. The new Sungrow Premium inverters are tried and tested, solid, budget solar inverters.
Let us know your experience with Sungrow inverters below.